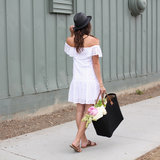 Image Source: ShopStyle Photography
I've always had the intention to make Sundays about my health and well-being, but until recently, I loaded up the rest of the weekend with plans, leaving me wiped me out. I spent Sunday recuperating. I'll admit it: sometimes I still have a little too much fun on Saturday night, and I'll only make my way down half of this checklist, but when I accomplish all of these tasks, I feel happy, healthy, and in control all week long.
Go to the farmers market: I'm very spoiled to live within (very close) walking distance of an awesome farmers market. I kick off my Sunday morning checking out the stands and getting inspired by whatever's looking fresh and available. This is where the majority of my healthy meal planning takes place, since I tend to keep lunch and dinner very simple at home during the week.
Supplement at the grocer: I head to the farmers market first since it's local, fresh, and surprisingly cheaper. From there, I make a quick pit stop at the grocery store to supplement whatever else I'll need for the week. Typically, this is just meat and whatever pantry staples I've run out of the week prior. This is a place I head to with a list, so I don't cave to all the tempting junk on the checkout line.
Prep produce and one grain: Once I'm home with all my goods, I head to the kitchen to start prepping for the week. My roommate and I make a big batch of one grain (typically quinoa) that's ready to toss into quick salads and serve alongside veggies and protein all week long. This was a game-changing step for me to make healthy eating easy and help me steer clear of quick takeout every night.
Pack my lunch: When I layer my ingredients and prep a homemade lunch, I always know exactly what I'm getting, so I can make sure it supports my needs at work. This helps me maintain my weight through portion control and saves me a ton of money come Friday afternoon. I also find that when I bring a homemade lunch to work on Monday, I'm much more likely to follow suit all week.
Image Source: POPSUGAR Photography / Maria Del Rio
Schedule my workouts: Even with the best intentions of working out, life gets in the way all week long. It's only when I've planned morning workouts in advance that I'm able to balance my workload and social calendar. I sit down, look at class schedules, and hit up friends to figure out where I'll be working out when. I sign up and pay for class in advance whenever possible to make sure I actually go.
Nest and chill: Chilling out is not heading to a biergarten with friends or making a huge dinner at a friend's house where I know the wine will be flowing. Sunday afternoon and early evening are all about turning on some records, lighting a candle or four, cleaning up my house, taking time to read outside, or tossing in a load of laundry. My week is crazy and I like it that way, but practicing major self-care on Sunday night ensures I feel balanced all week long. This is a nonnegotiable for me.
Get to bed early: During the week, I don't always get to bed as early as I'd like, but Sunday is one night I can make sure it happens. I turn off electronics, get my phone and computer out of grabbing range, and unwind with whatever book has been staring me down on my bedside table. I make a point to get to bed before midnight, so I can tackle the week with as much energy and enthusiasm as possible.
RELATED LINKS: