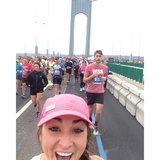 Image Source: Instagram user kellykroberts
If you think running is a lonely sport, Kelly Roberts of Run, Selfie, Repeat is here to prove you wrong. Last year, we fell in love with Kelly for not only making it through the grueling 26.2 miles of the NYC Marathon, but also managing to take more than 20 selfies along the way. This year Kelly brought her same fun spirit to the race, snapping pics of strong men along the course to help give her that extra boost to charge across the finish line. But the message on her final snap is what resonates with us the most: "It's been my goal since my first marathon back in 2013 to break 4 hours and it just happened . . . I did it. I fucking did it. Screw looking for a boyfriend, I'll take this PB any day."
As anyone who has ever run a marathon can tell you, it's no easy feat – so if a little eye candy is what helped Kelly hit a personal record, we are in full support. Who knows? Maybe she will fare as well as Steve Bergstrom did. Earlier this month, he scored a date by writing a single ad on his back for women to see as he ran the Chicago Marathon. Follow Kelly's race from start to finish, and be prepared to laugh – and cry – as she undertakes her epic journey.