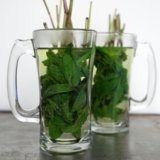 If you're trying to keep close tabs on added sugars and calories, it's time to rethink a daily Starbucks Peppermint Mocha. This seasonal drink should only serve as an occasional indulgence – not an everyday occurrence. Just one tall peppermint mocha (made with two-percent milk and no whipped cream) weighs in at 250 calories with 40 grams of sugar.
Backing off your Starbucks habit will help your waistline (and your wallet), but you can still enjoy the holiday scent and flavor regularly, just with a new tradition. Swapping out your peppermint mocha for a cup of hot peppermint tea keeps your drink in the spirit of the season while supporting your healthy goals.
It suppresses appetite: Mint's strong scent has been shown to help control appetite and suppress cravings. If you're always reaching for a sweet treat after dinner, consider sipping on a cup of hot peppermint tea to help curb your dessert desires.
It supports digestion: Multiple studies have shown that peppermint tea can calm down the gastrointestinal tract and allow for healthy bowel movements; in short, it keeps things moving and flowing naturally in your body. Dr. Oz says that peppermint tea can alleviate constipation, get digestion back on course, and that even folks suffering with IBS symptoms may find relief with peppermint oil capsules.
Related: This Rule Could Be the Key to Losing Weight
It keeps you relaxed: In a NASA-funded study, researchers found that during a stressful commute, subjects who smelled peppermint decreased their anxiety and fatigue levels by 20 percent and decreased frustration by 25 percent. When it comes to weight loss, increased cortisol levels from heightened stress can have negative consequences on your metabolism. The calming, soothing scent from your peppermint tea can help reduce stress and keep your body on track.
I'm a big fan of Yogi Tea's Purely Peppermint Variety ($13) that you can buy online or at the supermarket, but it's also easy to make your own fresh, homemade peppermint tea in your kitchen. If you don't love the minty flavor in your tea, try lighting a peppermint candle or taking a few whiffs of peppermint essential oil instead. Many natural forms of the scent could prove to be helpful and effective!
Related: When to Eat Your Largest Meal During the Day If You're Trying to Lose Weight