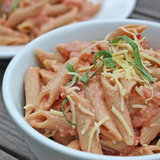 Penne alla vodka is an Italian staple that heavily lays on the cream and calories. After years of searching for a healthier alternative that actually tastes good, this recipe seemed too good to be true. Even without the booze and significantly less dairy thrown into the pot, this sauce brings the same tangy flavor and comforting texture that are indicative of the original. Just one bite will make you a believer.
Adapted from Cook Yourself Thin by Lifetime Television
Penne Alla "Not-ka"
Ingredients
2 teaspoons olive oil
3 cloves garlic, chopped
1/2 cup chopped red onion
3/4 teaspoon salt
1 14-ounce can diced tomatoes
Pinch red pepper flakes
2 tablespoons heavy cream
6 tablespoons evaporated nonfat milk
8 ounces whole wheat penne pasta
1/4 cup grated parmesan cheese, plus extra for serving
Fresh basil chiffonade
Freshly ground black pepper
Directions
Bring a large pot of salted water to a boil for the penne.
In a large saucepan, heat the two teaspoons oil with the garlic over low heat until the garlic begins to brown, about three minutes.
Add the onion and 1/4 teaspoon salt, cover, and cook until the onion is softened, about two more minutes.
Add the tomato, 1/2 teaspoon salt, and the red pepper flakes. Bring to a simmer, reduce the heat, and simmer very gently 10 minutes.
Stir in the cream and evaporated milk and simmer one more minute.
Meanwhile, after the sauce has cooked five minutes, add the penne to the boiling water and cook until just shy of al dente. Drain, reserving about 1/2 cup pasta water.
Add the drained penne to the saucepan and simmer until the penne is al dente, one to two minutes, adding a little of the pasta cooking water if the mixture is dry. Stir in 1/4 cup of the parmesan.
To serve, divide pasta among four serving bowls. Top off with basil chiffonade and black pepper to taste.
Image Source: Calorie Counter
Information
Category

Main Dishes
Nutrition
Calories per serving

304