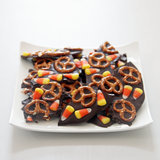 Even the healthiest among us can't help but get into the Halloween fun, and while everything's good in moderation, sometimes a night of temptation means going overboard (no regrets!). Whether you've snacked on trick-or-treating purchases too much or know you have a big weekend ahead, here are some ideas to detox when you're ready to get back on track.
Related: Clean Up Your Diet With 5 Detox Dinners
Drink more water: Make water consumption a priority the day after your Halloween festivities; not only will it help flush out all those indulgent decisions (that is, it'll help your hangover), but it'll give you more energy to tackle the day.
Break the sugar addiction: Eating a lot of sugar will only make you crave it more, so your night of fun-sized celebration may be leading to mindless reaching for your candy stash the rest of the week. Ready for a challenge? If you're craving sweets, take celebrity trainer Jackie Warner's advice: take five days to wean yourself off sugar and refined carbs by eating lots of fresh fruits and veggies instead. If forgoing sugar altogether seems impossible (especially in light of leftover holiday treats), check out our tips for reducing your sugar cravings.
Fight fatigue: Whether you hosted a Halloween party or spent an exhausting couple of hours corralling trick-or-treaters, the holiday can eat into your sleep time. To make sure you don't feel tired all day, fill your diet with these fatigue-fighting foods, and make a point to go to sleep early tonight – you may benefit from recovery sleep so you don't feel overly tired for the rest of the week.
Eat nourishing foods: You've had enough of the processed stuff – now it's time to eat real food. Start with a nutrient-packed smoothie, go for a kale salad for lunch, and a spicy carrot detox ginger soup for dinner. Eating a produce-rich meal plan will help your body crave the good instead of all the bad.
Move more: Get your metabolism going – and sweat out all the bad stuff – with an intense workout; if you can't bear the thought of exercise, go for a walk or do a few of these detoxifying yoga poses to get things moving.