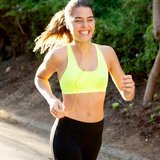 While a shift in seasons always helps things feel anew, waking up for a workout when it's dark out is a tough transition. Staying warm and cozy in bed feels like the obvious option when your alarm sounds off, but taking advantage of a.m. workouts helps in the long run. If you're struggling with waking up before the sun, these tips will help you rise up and stay motivated.
Don't hit snooze: Just say no to the snooze button. It's the kiss of death for an early-morning workout. It seems like a feasible option, but making deals with yourself in the morning that allow you another three or 10 minutes of sleep is a slippery slope. When you hear your alarm go off, just get up.
Have a reward ready: Knowing that a big cup of coffee or a delicious breakfast awaits you in the kitchen will make getting up so much easier. Consider cooking a make-ahead breakfast to enjoy once you're up, or leave out everything you need for your cup of morning coffee. It will make the process as carefree as possible – instead of worrying about something else on your laundry list of chores.
Related: Too Cold to Get Out of Bed? A 5-Minute Energizing Warmup
Lay out your clothes: Neatly prep all your workout clothes before you hit the hay. Double check to make sure you've got anything and everything you need ready to go. If you're heading to the gym, don't forget the outfit you'll need for work the next day or any of your favorite toiletries for the shower.
Find a friend: Early-morning workouts seem a little less painful when you've got a friend along for the ride. Whether you're hitting the streets for a run or getting in the car to head to a bootcamp class, having a partner in crime on a similar mission will help you stick to your plan. You'll be far less likely to bail if you'd be letting someone you love down.
Related: The Workout That Made Me a Morning Person